Sadie Soileau leads an active life. Like many fun-loving 10-year-olds in the Sun Belt, she loves to play sports, especially softball and basketball. And while Sadie's involvement with these competitive games may seem like no big deal to most people, it represents a major achievement for the little girl, who nearly one year ago this time was at risk of losing her lower right leg.
Sadie's mother, Jillian Soileau, remembers the experience vividly.
"It was May 14, 2021. We had just attended our oldest daughter's graduation from McNeese State University in Lake Charles and were on our way home to Ville Platte when one of the two cars our family was in got into an accident in Oberlin," recalls the mother of six. "Sadie, who was nine at the time, was in the car that was making a left turn when it was struck by an oncoming vehicle. She was asleep in the back seat on the passenger's side. She was wearing a seatbelt but was leaning with her head and body against the door."
The impact of the crash left Sadie with multiple, traumatic injuries, including one that could have resulted in a partial leg amputation.
"Her injuries included a closed fracture of the right humerus, a closed fracture of the right femur, open fracture of the right tibia with a large open wound and partial amputation of the right lower leg, an open fracture of the left humerus and a closed fracture of the left radius" recalls Jillian, who credits her attention to detail to her years of experience as a pediatric nurse practitioner.
But on that day when her fifth child sustained massive wounds from a horrific collision, it was Jillian, the mother, who reacted to the scene.
"I was paralyzed; I was helpless. I couldn't comprehend all that just happened. It was an overwhelming feeling of relief when the crew at Air Evac Lifeteam arrived and took over the situation. The team had everything under control, which allowed me to just feel the emotions of a mom and not have to have all the answers."

– Jillian
When the crew with Air Evac Lifeteam 124 based out of Opelousas arrived on scene, they immediately extracted Sadie and her then, 16-year-old sister, Carlee, from the crashed vehicle. Both girls were stuck in the damaged car — Sadie with multiple injuries and Carlee, who was already recovering from surgery to her right shoulder, with a broken right ankle.
Jillian remembers well how the crew treated Sadie with skillful care and expertise. "The paramedics noted a partial amputation of Sadie's right leg and worked very hard to control the bleeding," she said. "They knew she needed to get to a hospital fast and quickly airlifted her to Our Lady of the Lake Children's Hospital in Baton Rouge."
Upon arrival at the hospital, Sadie underwent several blood transfusions. Eventually, blood flow was restored after a reduction of the fractures during a six-hour surgery. However, due to the extent of her injuries, Jillian says doctors were still unsure, at that time, if they'd be able to save her right leg because any complication could have resulted in the need for amputation.
But there were no complications and she recovered, and she did it without an amputation!
Since that first day in the hospital, Sadie has made tremendous progress that includes the healing of her entire right leg. But her journey towards recovery wasn't easy. It involved 17 more surgeries, months of wound vac therapy, several debridement procedures and a skin graft. "We had to temporarily move to Baton Rouge for two months while Sadie was in the hospital," said Jillian.
Today, the young survivor is thriving again. With the help of her physical therapist, who meets with her three days a week to regain full use of her leg, Sadie was recently able to participate in her parish's youth basketball program and in mid-March, her first softball game of the season.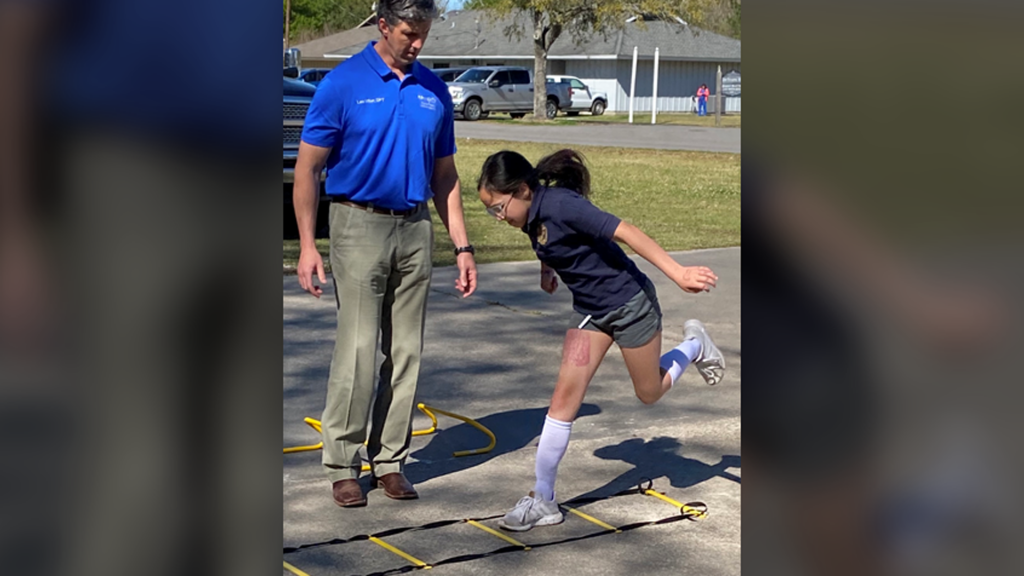 "We are all so grateful to the Air Evac Lifeteam crew members that cared for Sadie at the scene and airlifted her to the hospital. Words can never express how appreciative we are to them," said Jillian, who adds that the crew's command of knowledge is one of the reasons her young daughter can run, shoot hoops and play ball, again."
You never know when a medical emergency will arise. Don't wait. Become a member today.